The UK's Leading Cat Fishing Specialist
Each month during Spring and Summer, CatMaster Tackle  run the Fish of the Month competition. Take a photo of your catfish captures with one of our products in the photo and send it in to us via email or on social media. Its not about the biggest fish but instead the best photo and stories about the capture. The CatMaster Field Testers will choose a monthly winner to get an exclusive CatMaster Tackle prize.
The winning entries will then be entered into the competition for the grand prize, a week for two anglers at Rock Lakes, France! 
All Entries must be caught in the month that you are submitting your entry.
The Date and Venue is required
A CatMaster Tackle product must be in the photo
Tell us which products you used catching your catfish
Proud Member of
THE CATFISH CONSERVATION GROUP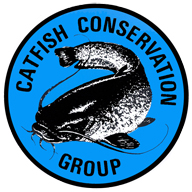 THE CCG (estd. 1984) is the World's first club dedicated to fishing for the wels catfish, (Latin name – Silurus glanis), also called the European or Danubian catfish. They are based in England but have catfishing members all over the World. If you want to know more information about the wels catfish, where to find them and how to catch them, or want to get advice or ideas about specialist catfishing tackle then click below!
Have a question? Why not send us a message
Or you can contact Ron or Kath Griffiths by calling:
Telephone: 01527 835534
Mobile: 07734 679387
Monday to Saturday – 9am to 6pm
You can also contact us via Social Media